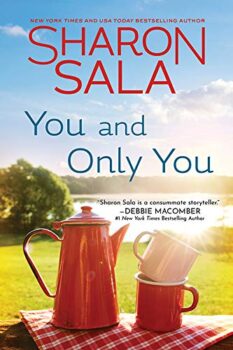 Blessings, Georgia #1
February 22, 2016
Sourcebooks (Casablanca)
Available in: Paperback, Audio, e-Book
You and Only You
Welcome to Book One in the Blessings, Georgia series of Southern contemporary romance from New York Times and USA Today bestselling author Sharon Sala. With the support of her handsome, unassuming friend Mike Dalton, LilyAnn Bronte is finally ready to put the past in the past.
It's never too late
Mike Dalton has secretly loved LilyAnn Bronte since they were all children together in the small town of Blessings, Georgia. But one fateful day T.J. Lachlan roars into town and starts showering LilyAnn with his charm, and Mike feels his dream of them being more than friends slipping away.
To find the love you missed
LilyAnn, as anyone in Blessings will tell you, let herself go after her fiancée was killed in Iraq. The attention of the handsome new guy shocks her into a revelation: she's ready to live again, and maybe the best is yet to come. The thing is, everybody in Blessings is sure it's Mike and LilyAnn who belong together-and they're willing to do whatever it takes to make LilyAnn realize the love of her life has been by her side all along.
(Originally published as The Curl Up and Dye.)