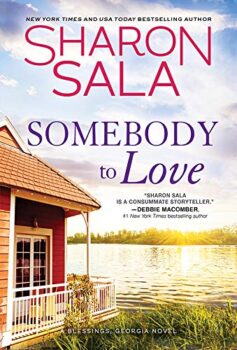 Blessings, Georgia #11
February 23, 2021
Sourcebooks (Casablanca)
Available in: Paperback, e-Book
Somebody to Love
Welcome to Blessings, Georgia! Whether you've lived here your whole life, you're returning after years of being away, or you're new in town, you're sure to find the unforgettable love you've always been looking for.
Fifteen years ago, a family member stole the money Hunt Knox had saved for college, while three of his siblings and his father hid the truth and told him to get over it. Betrayed by their lies and thievery, Hunt joined the army and wound up flying Apache helicopters in Iraq. Now, he's a chopper pilot for an oil company in Houston, Texas, his father has been dead for six years, and he's finally returning home to Blessings at his mother's dying request.
Ava Ridley, the little girl his mother used to babysit, has grown up and is a nurse at his mother's bedside when he arrives. Ava is overjoyed to see the man her childhood crush has become. And as the two spend more time together, Ava's crush grows to be even more.
Hunt never expected to fall in love, but just as it appears he and Ava are headed for a happy ever after, she becomes a victim of violence at the hospital ER in Blessings, and suffers an injury that could cost her life. Through secrets, lies, family betrayal, and difficult choices, Hunt's not sure he and Ava can ever make a home together in Blessings. Or if life will once again lead them onto different paths…?
Grab some sweet tea and sit awhile; This sweet, emotional story has family betrayal, childhood crushes, a veteran hero, and a second chance to get everything right.