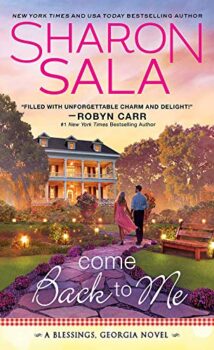 Blessings, Georgia #6
August 28, 2018
Sourcebooks (Casablanca)
Available in: Paperback, Audio, e-Book
Come Back to Me
New York Times and USA Today bestselling author Sharon Sala always delivers the perfect happy ending. Grab a glass of sweet tea, settle in your comfiest reading spot, and head home to Blessings.
After a devastating fire pitted their families against each other, high school sweethearts Phoebe Ritter and Aidan Payne were torn apart. Twenty years later, Aidan is called back to Blessings, nervous about confronting his painful past. And that's before he knows about the nineteen-year-old secret Phoebe has been harboring all this time.
As Aidan tries to make up for lost time with the family he didn't know he had and the prospect of finally finding home, Phoebe and Aidan rediscover long-suppressed feelings. Aidan is stunned by Phoebe's grace and honesty, but the past won't lie buried, and old enemies threaten to destroy the peace they've fought so hard to find.
Praise for Sharon Sala's contemporary romances:
"Sharon Sala is a consummate storyteller. Her skills shine in her Blessings, Georgia series. If you can stop reading then you're a better woman than me."—DEBBIE MACOMBER, #1 New York Times Bestselling Author
"Sharon Sala's Blessings, Georgia series is filled with unforgettable charm and delight!"—ROBYN CARR, #1 New York Times Bestselling Author
"Sala makes Blessings, Georgia, a vastly entertaining place to visit."—BookPage
"[Sala's] Blessings, Georgia series is full of heartfelt emotions and laughter."—Fresh Fiction