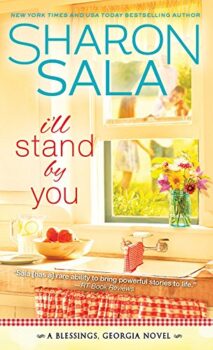 Blessings, Georgia #2
June 2, 2015
Sourcebooks (Casablanca)
Available in: Paperback, Audio, e-Book
I'll Stand By You
"Sharon Sala is a consummate storyteller. Her skills shine in her Blessings, Georgia series. If you can stop reading then you're a better woman than me." —DEBBIE MACOMBER, #1 New York Times Bestselling Author
Welcome to Blessings, Georgia, the best small town in the South!
No one is alone as long as there is love to give
Dori Grant is no stranger to hardship. As a young single mother in the gossip-fueled town of Blessings, Georgia, she's weathered the storm of small-town disapproval most of her life. But when Dori loses everything within the span of an evening, she realizes she has no choice but to turn to her neighbors.
Everyone says the Pine boys are no good, but Johnny Pine has been proving the gossips wrong ever since his mother died and he took over raising his brothers. His heart goes out to the young mother and child abandoned by the good people of Blessings. Maybe he can be the one to change all that…
Blessings, Georgia Series:
You and Only You (Book 1)
I'll Stand by You (Book 2)
Saving Jake (Book 3)
A Piece of My Heart (Book 4)
The Color of Love (Book 5)
Come Back to Me (Book 6)
Forever My Hero (Book 7)
A Rainbow Above Us (Book 8)
Praise for I'll Stand By You:
"An amazing story by a true storyteller…Sala once again shows why she is a master of the romance genre." —RT Book Reviews, 4 stars
"Small-town romance with humor and heart and a heaping pinch of reality." —The Romance Dish
"A heartfelt and emotional love story…incredibly uplifting and gratifying." —Book Reviews and More by Kathy