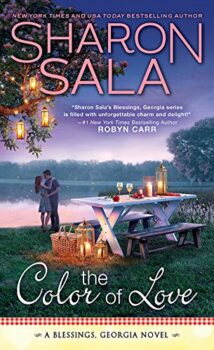 Blessings, Georgia #5
February 6, 2018
Sourcebooks (Casablanca)
Available in: Paperback, Audio, e-Book
The Color of Love
"Sharon Sala is a consummate storyteller. Her skills shine in her Blessings, Georgia series. If you can stop reading then you're a better woman than me." —DEBBIE MACOMBER, #1 New York Times Bestselling Author
Welcome to Blessings, Georgia, the best small town in the South!
He might be winning her heart before she even knows who he is…
Welcome to Blessings, Georgia, the small town with a big heart! Anyone from a small town can tell you that gossip never stays quiet for long. The biggest news lately is Ruby Dye: she's been receiving gifts from a secret admirer. But Ruby isn't sure she can trust this newfound happiness. Nobody knows the dark secrets she keeps about her life before she arrived in Blessings. Is this the beginning of a would-be romance, or is she the target of something more sinister?
Everyone admires Ruby and her determination to do the right thing, especially local lawyer "Peanut" Butterman. He's finally ready to tell her how he feels. But when trouble arrives on Ruby's doorstep and their little town is threatened, Peanut may have to prove himself in ways he never imagined.
Blessings, Georgia Series:
You and Only You (Book 1)
I'll Stand by You (Book 2)
Saving Jake (Book 3)
A Piece of My Heart (Book 4)
The Color of Love (Book 5)
Come Back to Me (Book 6)
Forever My Hero (Book 7)
A Rainbow Above Us (Book 8)
What People are Saying about the Blessings, Georgia Small Town Romance Series:
"Sala is magical!"—RT Book Reviews for A Piece of My Heart
"Sala hooks you from the first page…"—Fresh Fiction for I'll Stand by You
"You cannot go wrong with a book by Sharon Sala!"—RT Book Reviews,4 Stars, for Saving Jake