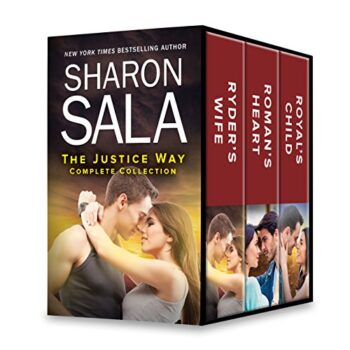 The Justice Way
December 18, 2017
Harlequin
Available in: e-Book
The Justice Way Complete Collection
Revisit the fan-favorite Justice Brothers romance series from New York Times best-selling author Sharon Sala, together in one complete box set
Three novels about three brothers who believe in truth, justice . . . and love!
Ryder's Wife
When a desperate woman pleaded for a husband — for one year only — he was the only man brave enough to take her on. But was he about to lose his heart to his . . .wife?
Roman's Heart
He couldn't resist the pretty woman he'd found hiding in his cabin — the one with no memory and the duffel bag full of cash. Could he convince her they had a future . . . even though she didn't remember her past?
Royal's Child
He thought he was just helping his five-year-old daughter locate her angel. Little did he know he was finding his own!
The Justice Way: Brothers Ryder, Roman and Royal. They would do anything for each other and for the women they love.