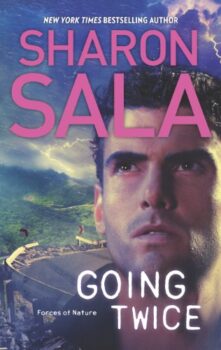 Forces of Nature #2
January 28, 2014
MIRA Books
Available in: Audio, e-Book
Going Twice
New York Times bestselling author Sharon Sala enters the eye of the maelstrom as death and disaster stalk Tornado Alley—aided by an obsessive madman.
As bodies pile up in the wake of a storm—stripped, tortured and grimly posed—authorities must admit the unthinkable. The serial killer dubbed the Stormchaser has returned following a tornado and taken it upon himself to bring the death toll up to where he believes it belongs.
FBI investigator Wade Luckett is back on the case, assisted by an agent Wade knows professionally and personally: his ex-wife, Jo. Neither time nor the tragedy that tore them apart have blunted the ache Wade feels for brave, beautiful Jo. And though she tries to deny it, she feels the same. But the stirrings of renewed romance will have to wait until they catch a killer.
The Stormchaser has no intention of getting caught. He's set his sights on a new victim. Jo can forget about the lifetime she dreams of spending with Wade. She'll be lucky to see another day.