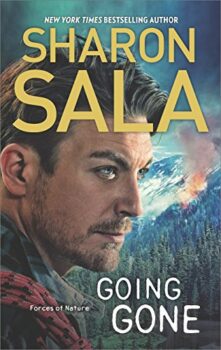 Forces of Nature #3
September 30, 2014
MIRA Books
Available in: Audio, e-Book
Going Gone
The final storm of the season could be their last.
After barely escaping death when her plane crashed deep in the Rocky Mountains during a snowstorm, Laura Doyle is left with a lingering fear for her life. Her lover, FBI agent Cameron Winger, reassures her that he found her then and always will. But Laura is right to be afraid, because when their engagement is announced it signals to a madman that it's time for his killing spree to begin again.
Twice thwarted by Cameron and his partners, the Stormchaser pairs random acts of God with deliberate acts of evil. His final act of vengeance will finish his twisted vendetta by taking from Cameron the thing he loves most: Laura.
As law enforcement struggles to connect the gruesome murders he's committed to mask his return, the Stormchaser draws closer to his true target. But Cameron and Laura don't realize they're in the eye of the storm—and this time, being unprepared for the onslaught could spell disaster.