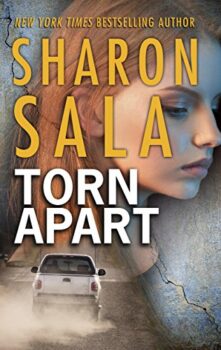 Storm Front #2
June 11, 2018
MIRA Books
Available in: Audio, e-Book
Torn Apart
Revisit book 2 of the Storm Front novels—a fan-favorite romantic suspense series fromNew York Timesbest-selling author Sharon Sala
The twister that touches down in Bordelaise, Louisiana, not only destroys the calm of a summer Sunday, it pierces the soul of Katie Earle, whose young son Bobby goes missing…and it wasn't the storm that took him.
Katie's first thought is that her estranged husband, J.R., saw his chance and grabbed Bobby to spite her. But the reality goes beyond that to truly horrifying, and now her nightmare is only just beginning. The real terror will begin when the tornado's wreckage is cleared away and the kidnapper can escape with his prize.
The agony of uncertainty grows with every passing hour as Katie and J.R. reunite with a single, desperate purpose: to find their son before he slips from their grasp…forever.
Originally published in 2010