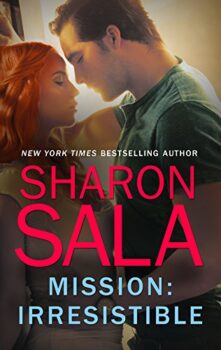 A Year of Loving Dangerously #1
April 10, 2017
Harlequin
Available in: e-Book
Mission: Irresistible
Revisit one of Sharon Sala's fan-favorite romances from the classic miniseries A Year of Loving Dangerously, where passion rules and nothing is what it seems…
THE AGENT: Brilliant, beguiling Alicia Corbin.
THE MISSION: Persuade brooding SPEAR operative East Kirby to return to the field as her partner.
THE SURPRISE MANEUVER: Things were going according to plan…until East invaded Alicia's heart!
She was there to catch a traitor, and getting emotionally involved with stubborn, sexy East Kirby was not an option for Alicia. But she felt her resolve slipping when she discovered the reclusive loner was the soul mate she'd only ever dreamed existed. Now if only she could use the adrenaline rush that surged through her veins at East's electrifying kisses to make her mission a success…and East a partner for life.
Originally published in 2000