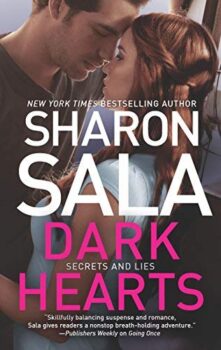 Secrets and Lies #3
May 17, 2021
MIRA Books
Available in: Paperback, Audio, e-Book
Dark Hearts
Become absorbed in the riveting conclusionNew York Timesbestselling author Sharon Sala's Secrets and Lies trilogy as twisted lies refuse to stay buried.
Betsy Jakes was having nightmares, nightmares that could solve a decades-old mystery. And for someone in her small town, that meant she had to die.
When Sam Jakes returns home to help his brother solve their mother's murder, two things shake him to the core. This crime is clearly the work of a serial killer who has struck twice before. And…Lainey Pickett is still in town. The woman he walked away from without an explanation years ago has just walked back into his life. She still holds a grudge—and his heart.
As Sam digs deeper into the murders and thirty-year-old secrets begin to emerge, he finds himself racing against time not only to catch a killer but to keep Lainey, the only woman he'll ever love, from falling victim, too.
Previously published.

Read the Secrets and Lies Trilogy by Sharon Sala:
Book One:Wild Hearts
Book Two:Cold Hearts
Book Three:Dark Hearts