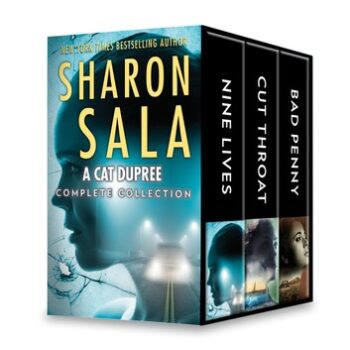 Cat Dupree
April 16, 2018
MIRA Books
Available in: e-Book
A Cat Dupree Complete Collection
Revisit the fan-favorite Cat Dupree series fromNew York Timesbest-selling author Sharon Sala, together for the first time in one complete box set
Nine Lives
Bounty hunter Cat Dupree first cheated death when she was thirteen. The second time left her orphaned and scarred. And the only thing that will diminish her lust for revenge is finding the man who left her for dead. Every job she takes is an opportunity to invade the criminal world that hides the tattooed man who ruined her life. And she hopes to hunt him down on her current mission into the rugged deserts of Mexico, where there is no law to watch her back.
Without her knowledge, bondsman Wilson McKay is on the same job, and trailing Cat is the fastest way to find his man. He's willing to share resources—and the reward—especially if that means getting to know the lonely woman beneath Cat's tough, take-no-prisoners exterior. Life's taught Cat that the surest way to land on her feet is to work alone, but Wilson might be the man to change her mind—when they're not competing for jobs or ready to kill each other.
Cut Throat
Throat slashed and left for dead next to her murdered father, a thirteen-year-old girl vows to hunt down the man who did this to them—Solomon Tutuola. Now grown, bounty hunter Cat Dupree lets nothing—or no one—stand in the way of that deadly promise. Not even her lover, Wilson McKay.
Their sexually charged encounters leave McKay wanting more, but Cat is determined to keep her distance. She doesn't need a man making emotional demands, not now, when revenge is near.
Suspecting that Tutuola is still alive, despite witnessing the horrific explosion that should have killed him, Cat follows a dangerous money trail to Mexico, swearing not to return until she's certain Tutuola is dead—even if it means destroying her very soul…
Bad Penny
Cat Dupree would love nothing more than to settle down and build a life with fellow bounty hunter Wilson McKay. But Soloman Tutuola–the man who murdered her father and slashed her throat when she was thirteen–haunts her even from the grave.
An investigator from Mexico is tracking down the person who is responsible for Tutuola's death–and the trail leads directly to Cat. To add to her bad luck, a junkie with a vendetta is stalking Wilson and is willing to kill anyone who gets in the way of his revenge.
Desperate to start their future together, Cat and Wilson turn the manhunt around–vowing to do whatever it takes to find freedom from the past and the scars that have damaged them both